2022 Spotlight On Series:
Federal

COVID Relief Funding for North Carolina Schools
Since March 2020, the United States government has provided nearly $337 billion in pandemic-related aid to be used to support the education of students across the country in preschool through higher education. North Carolina was allocated $9.4 billion in education funding through three separate federal laws.
Note: The data in this post has been updated since the original release of this Spotlight On in Spring 2022.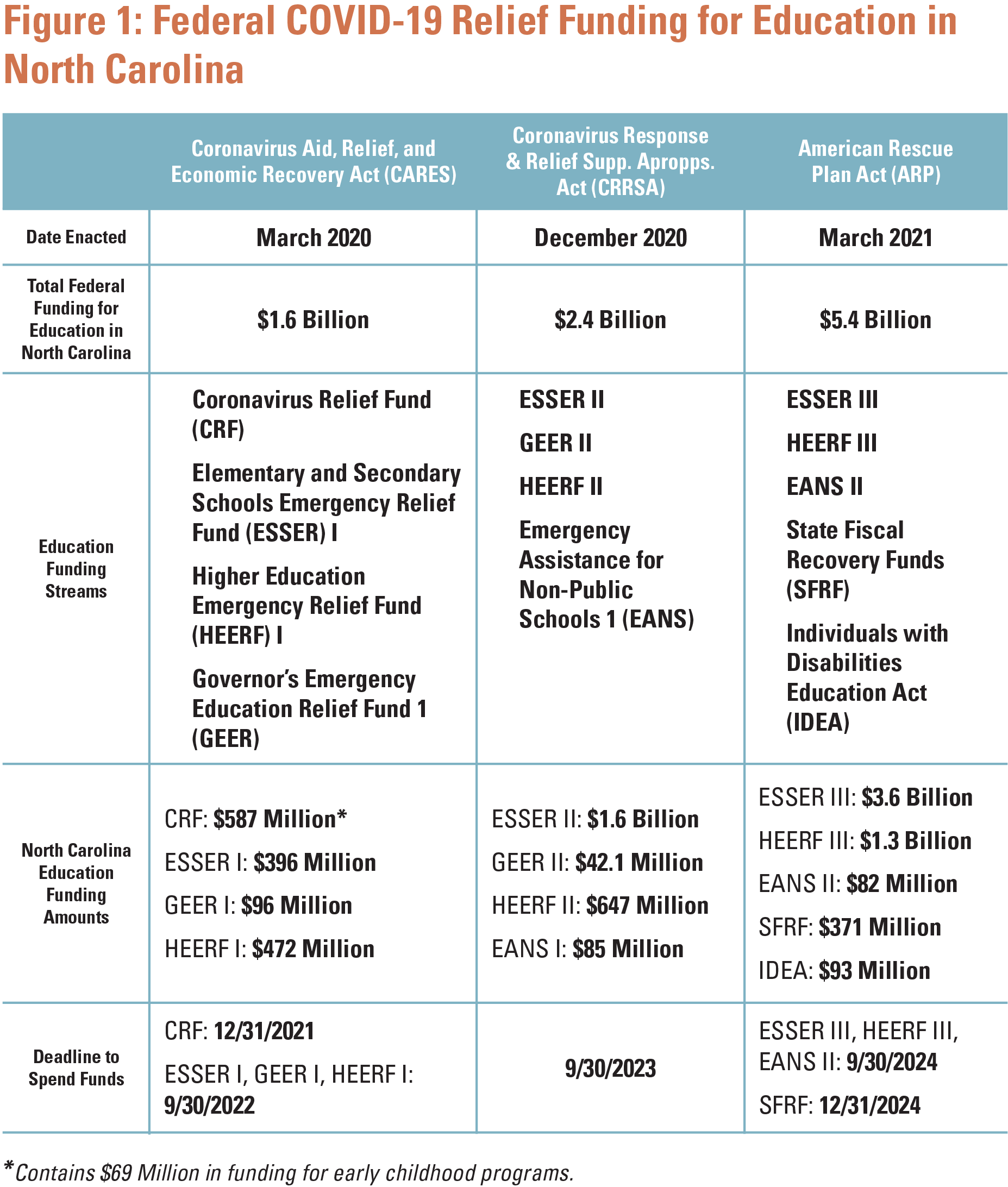 Ninety percent of ESSER funds, the largest packages for K-12 public schools, were delivered directly to public school units (PSUs) following the federal Title I funding formula, and PSUs have discretion over these funds, within limitations provided in federal law.
Schools with higher percentages of economically disadvantaged students received more COVID relief funding, per student, than wealthier districts. COVID-19 funding ranged from $1,700 per pupil in Chapel-Hill Carrboro City Schools to $14,825 per pupil in Weldon City Schools.

As of August 31, 2022, 48% of the $5.9 billion provided to PK-12 public schools for COVID-19 relief had been spent; and PSU's have spent 97% of dollars allocated through funding streams that have expired or are expiring soon (see Figure 2)

.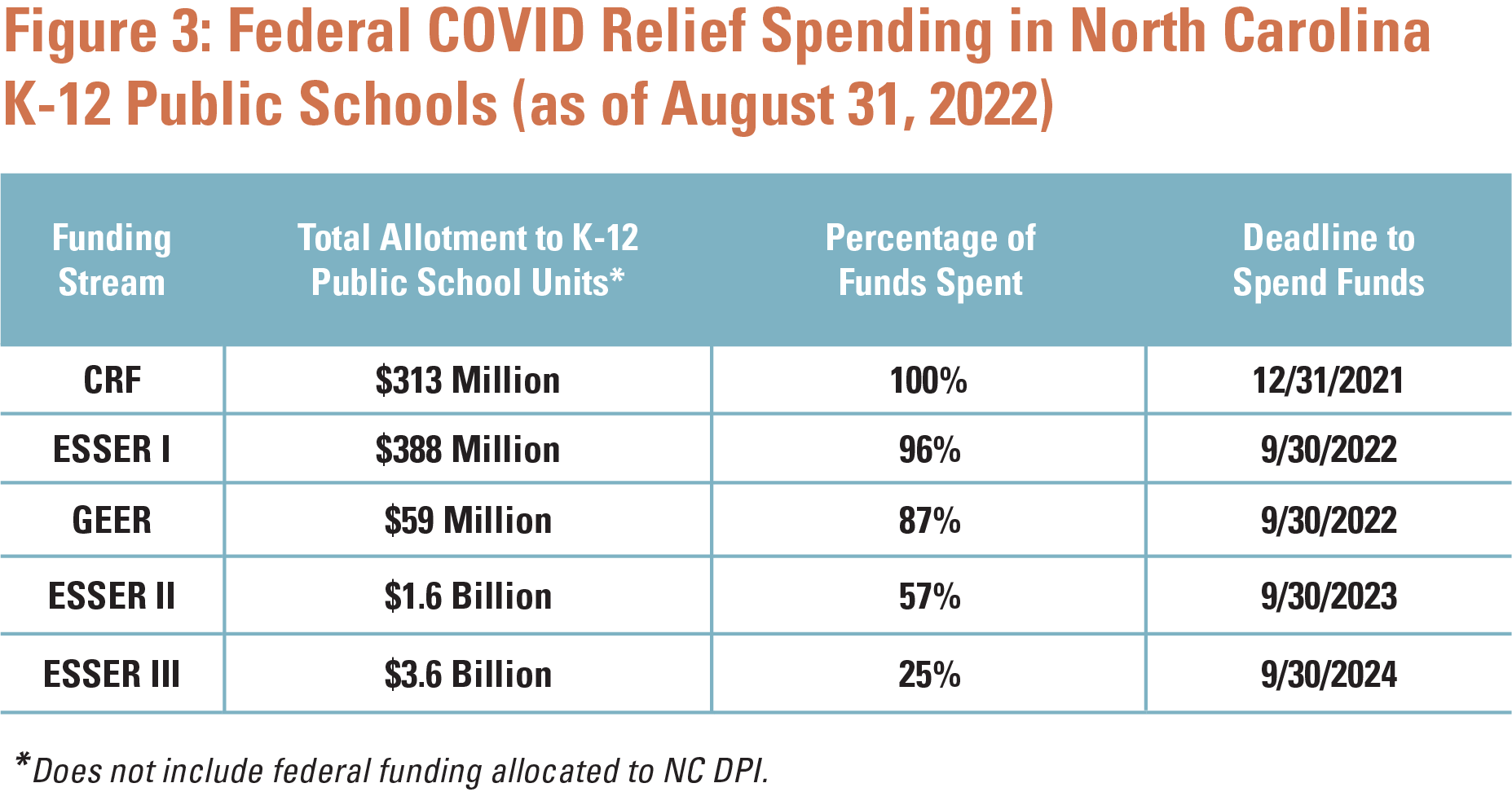 PSU spending trends have shifted as school and student needs have become clearer (see our Student Learning During the Pandemic blog post). For instance, money appropriated via Coronavirus Relief Fund in early 2020 was used primarily to help schools transition to remote education at the outset of the pandemic. Funding was heavily invested in supplies and materials, including personal protective equipment, computers for remote learning, and materials to support the delivery of school meals. Subsequent funding streams have been increasingly utilized to support students' academic needs, including hiring additional teachers and staff, as well as providing funds for tutoring and summer programming.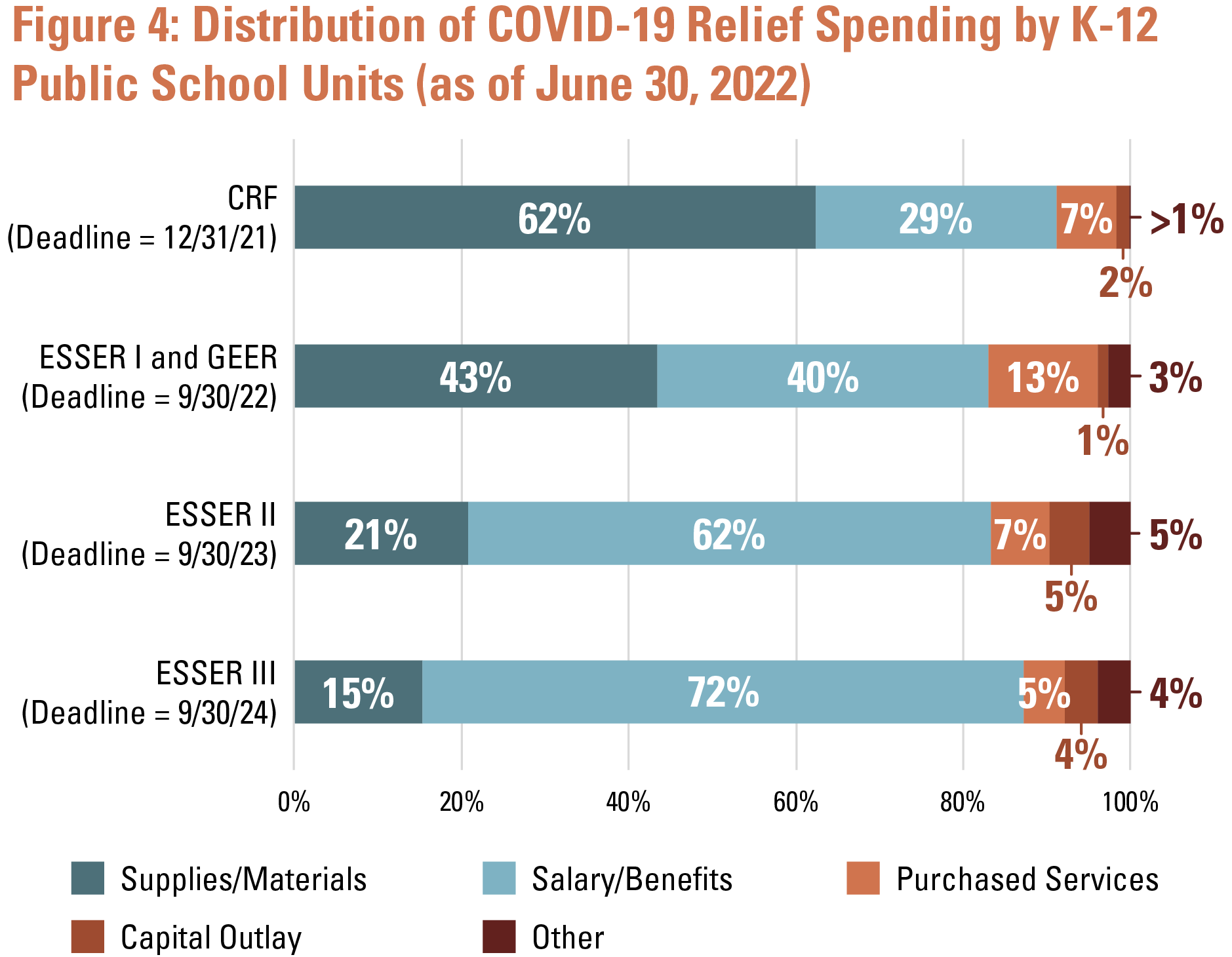 AND THERE'S MORE
To learn more about

COVID relief funding for North Carolina's schools

, and to view DPI's visualizations of COVID fund allotments and expenditures, check out these links: