Ensuring Access to Economics & Personal Finance Coursework
Business leaders know that a solid understanding of economics and the ability to make sound personal finance decisions is critical for success in work and in life. Research supports this as well, with several studies finding that individuals who receive training in financial literacy concepts have less debt and are better equipped to contribute to the economic well-being of the country. BEST NC joined a bi-partisan coalition in support of the creation a high school graduation course requirement in economics and personal finance.
The Case for Personal Financial Literacy Instruction
A strong understanding of economics and personal finance is critical for students across North Carolina. These students will be engaging in our state's economy for years to come and high-quality financial literacy instruction can improve their ability to successfully navigate purchasing and borrowing decisions and enable them to enjoy a higher quality of life.
Research has found that states that have required stand-alone courses in personal finance have seen their average credit scores rise in the years after implementation. For instance, in recent years, Georgia, Idaho, and Texas have implemented high school course requirements for personal finance and economics. In a published report from the Financial Industry Regulatory Authority, the authors found that, after implementation, average credit scores improved in those states and they had fewer payment delinquencies. Importantly, the magnitude of those positive changes grew each year that an impacted cohort of students graduated from high school.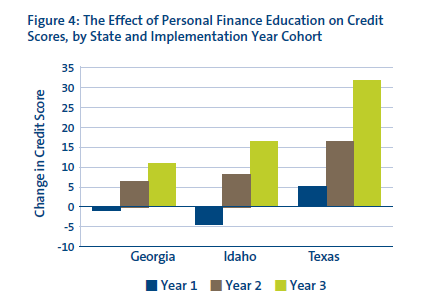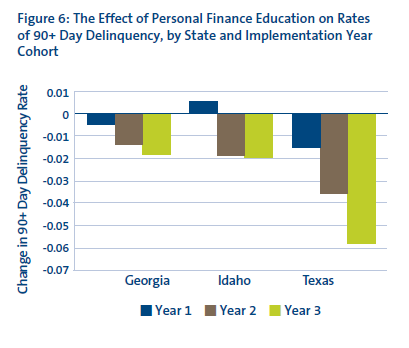 Before 2019: Limited Focus on Economics
Until 2019, North Carolina high school students received instruction in financial literacy within in the required American History: Founding Principles, Civics and Economics course. Unfortunately, because so many topics were included in this single course – early United States history, civics, government, and economics – students reported receiving little explicit instruction in personal finance.
North Carolina was falling behind the 20 others states that required a stand-alone course in economics, and the 17 states that required a stand-alone course in personal finance. In these states, students receive explicit instruction in economics and personal finance, enabling high school graduates to better understand the important financial and economic choices they will face in their lives.
Note: Some North Carolina students take an elective personal finance course through the state's Career and Technical Education program.
2019: Bipartisan Legislation Creates New Graduation Requirement
In 2019, after years of discussion about the need to increase the emphasis on financial literacy instruction in our schools, a bipartisan coalition of policymakers, business leaders, and education advocacy groups came together in support of the creation of a new, required course in economics and personal finance.
On July 8th, 2019, House Bill 924 was signed into law, creating a new, stand-alone high school graduation requirement in economics and personal finance.  As defined in the legislation, the course must include instruction on at least the following:
The true cost of credit,
Choosing and managing a credit card,
Borrowing money for an automobile or other large purchase,
Home mortgages,
Credit scoring and credit reports, and
Planning and paying for postsecondary education.

Additionally, the legislation requires that teachers teaching this new course receive the professional development necessary to ensure high-quality, rigorous instruction in financial literacy concepts. To the extent that funds are made available, teachers must complete a week-long economics and personal finance course provided by the North Carolina Council on Economic Education before teaching the new course.
The new graduation requirement applies to students in the graduating class of 2024 and beyond.