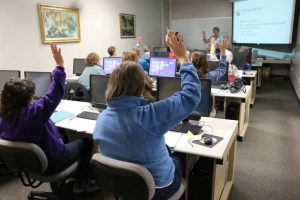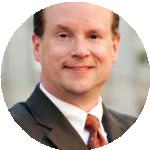 John Hood in Daily Journal
My father was Darth Vader.
No, that doesn't make me a Jedi Knight. My father was also Boss Hogg  and a range of other bad guys. During his nearly two decades as principal of North Carolina's largest elementary school, located in the Mecklenburg County community of Matthews, Harold Hood made it an annual  tradition to ride in the town's parade dressed as a popular villain of the day. Bad guys were more fun to portray, he explained, particularly for the kids in the crowd.
When I was one of those kids, I just thought my dad was being his usual funny self. He liked to tell jokes, frequently corny, and stories of his life, frequently silly and self-deprecating. But as I got older, became a supervisor, and then a leader of an organization myself, I came to understand that school principal Harold Hood had been using humor as a management tool.
He used it to build rapport with his staff, from custodians and support  staff to veteran teachers. He used it to cut the tension in stressful  situations with students or parents, to nudge teachers genially rather than command them gruffly, and to help people draw the right conclusions for themselves rather than simply telling them the  answer.
When my dad retired from Matthews School in 1992, The Charlotte Observer published a profile that made it clearer what he'd been up to all along. "He's sort of a happy-go-lucky man that everyone really likes," said one parent, a local politician. "He always knows what's going on" and "is among the most observant people I know," said one of his teachers. "He had a wonderful sense of humor," said another teacher, "but he's a no- nonsense person." A secretary said he "handles everything so calmly,   it's beautiful to watch him work."
While my father got his administrative training in the 1960s, when research about school leadership was still in its infancy, his instincts and practices track well with what scholars now know about principal effectiveness. Top performers create a compelling and unifying vision for their school, gather and consume information ravenously, and build strong personal relationships with the people they  lead.
North Carolina is at the early stages of a fundamental reinvention of principal preparation. Rather than rely on an "opt-in" model, in which campuses accept pretty much any teacher looking to move up to administration, the five training programs associated with the new North Carolina Alliance for School Leadership Development (NCASLD) actively recruit prospects for principal  preparation.
One of them is North Carolina State University's Northeast Leadership Academy. The nonprofit news service Education NC recently reported on one way this leadership academy screens for the most-promising trainees. When prospects are brought to tour a school, the academy makes sure there are custodians or other support staff in the hallways. Do the prospective principals think to say hello to them or ask them   questions?
Observers note that. My dad would have passed this test with flying colors – and immediately grasped its  purpose.
Over the past two years, the state legislature has directed $5 million into the NCASLD-facilitated training programs. More than 100 of the trainees will be eligible to work in North Carolina schools within the next two years. BEST NC, an alliance of business leaders and other advocates of education reform, is championing the program and advocating that lawmakers continue to fund and nurture  it.
By some estimates, about a quarter of the entire effect of schooling on student learning is attributable to school leadership, directly or   indirectly.
Effective principals hire, develop, and retain the best instructional talent. High-performing teachers are unlikely to stay long where there is dismal leadership, particularly in high-poverty schools or those in desperate need of a turnaround.
My father Harold Hood passed away last December, just before  Christmas. Although he enjoyed playing the villain in the annual parade, he worked hard the rest of the year at the heroic task of inspiring teachers and students to excel. Leadership matters. Let's cultivate  it.
John Hood is chairman of the John Locke Foundation and appears on the talk show "NC SPIN." You can follow him  @JohnHoodNC.
categories: K-12 Education, Opinion
tags: best nc, Education NC