BEST NC Releases Comprehensive Teacher Pay Report
I

n

2023

,

BEST NC released a new report on teacher pay entitled

Teacher Pay in North Carolina: A Smart Investment in Student Achievement

.

The BEST NC team, along with leading economists and experts from across the country

examined

the complex issue of teacher pay. In our analysis, we uncovered important new evidence that the existing teacher pay structures in North Carolina, and across the country,

fail to

address dramatic decades-long shifts in our national workforce and are inadequate for meeting the personal and professional needs of today's teachers.
This teacher pay report offers specific, actionable recommendations for both an increased and transformed teacher salary structure that can help retain exceptional educators and attract the next generation of top-tier talent into North Carolina public schools.
You can access the full report and the executive summary here. 
Below is an overview of the report. This is the first in a series of blogs that will highlight key concepts and recommendations from the report.
Background: Why Professional Compensation Matters
Research has consistently found
that teacher quality is the most important in-school factor for student success, with high-performing teachers producing significantly higher achievement gains than low-performing teachers. Given this reality, it is essential for teacher compensation to attract highly qualified candidates into the profession and to support continued professional growth throughout their career in the classroom.
In his NYT best-selling book
Drive: The Surprising Truth About What Motivates Us
, Daniel Pink contends that professional compensation is fundamentally important to fulfill an individual's biological need to support oneself and one's family (compensation must be
adequate
), and individuals must feel that they are fairly paid for the skills they hold and the work they do (compensation must be
equitable
).
The
Teacher Pay in North Carolina
report considers Pink's framing of professional compensation, compared to the current, 100-year-old teacher step-and-lane pay structure that is used in North Carolina and across the country. Through this lens, the report finds that our teacher pay and retention practices are outdated and fail to recruit and retain the top-tier candidates our students deserve. 
Beyond baseline requirements of adequacy and equitability, Pink finds that high-skilled professionals are motivated to perform at their best when their jobs present the opportunity for mastery, autonomy, and purpose. Current teacher pay practices and organizational structures, in stark contrast, encourage a "one-teacher, one classroom" approach that stifles growth and leaves high-performing teachers with few opportunities for professional advancement.
Five Key Challenges of

Current Teacher Compensation Models
An exploration of research on best practices in teacher compensation revealed five major challenges, each of which is examined closely in the

Teacher Pay in North Carolina

report.
Challenge 1:

Teaching is a Mostly Female Workforce, Yet Teacher Pay Has Not
Kept Up with Increasing Opportunities and Pay for Female, College-Educated Professionals

.

 
Nationally, between 1985 and 2021, median income for women with a bachelor's degree grew by 22% when adjusted for inflation, compared to just 10% for teachers. Earnings for college-educated women have now eclipsed earnings for teachers. Women still
comprise
the majority of
the teaching workforce, but, as women have more professional opportunities than ever before, teaching is
arguably less
attractive now than ever before for top-tier female candidates.
v
Challenge 2:

Under the Existing Salary Schedule, North Carolina Teachers Must Wait Far Too Long Before Their Salaries Provide a Living Wage that Can Support a Family

.

 
Outside of retirement, teacher attrition is highest in the first five years of a teacher's career. These years coincide with the time that teachers are starting to build their families.
At this crucial juncture, the traditional step-and-lane schedule does not provide a living wage that allows teachers to support a family.
The
Teacher Pay in North Carolina
report uses the
Living Wage Calculator
from the Massachusetts Institute of Technology, which leverages geographically specific data on living expenses (e.g. housing, health insurance, food, childcare), to estimate that nearly one-third of North Carolina teachers earned less than a living wage for a family of four in 2021-22.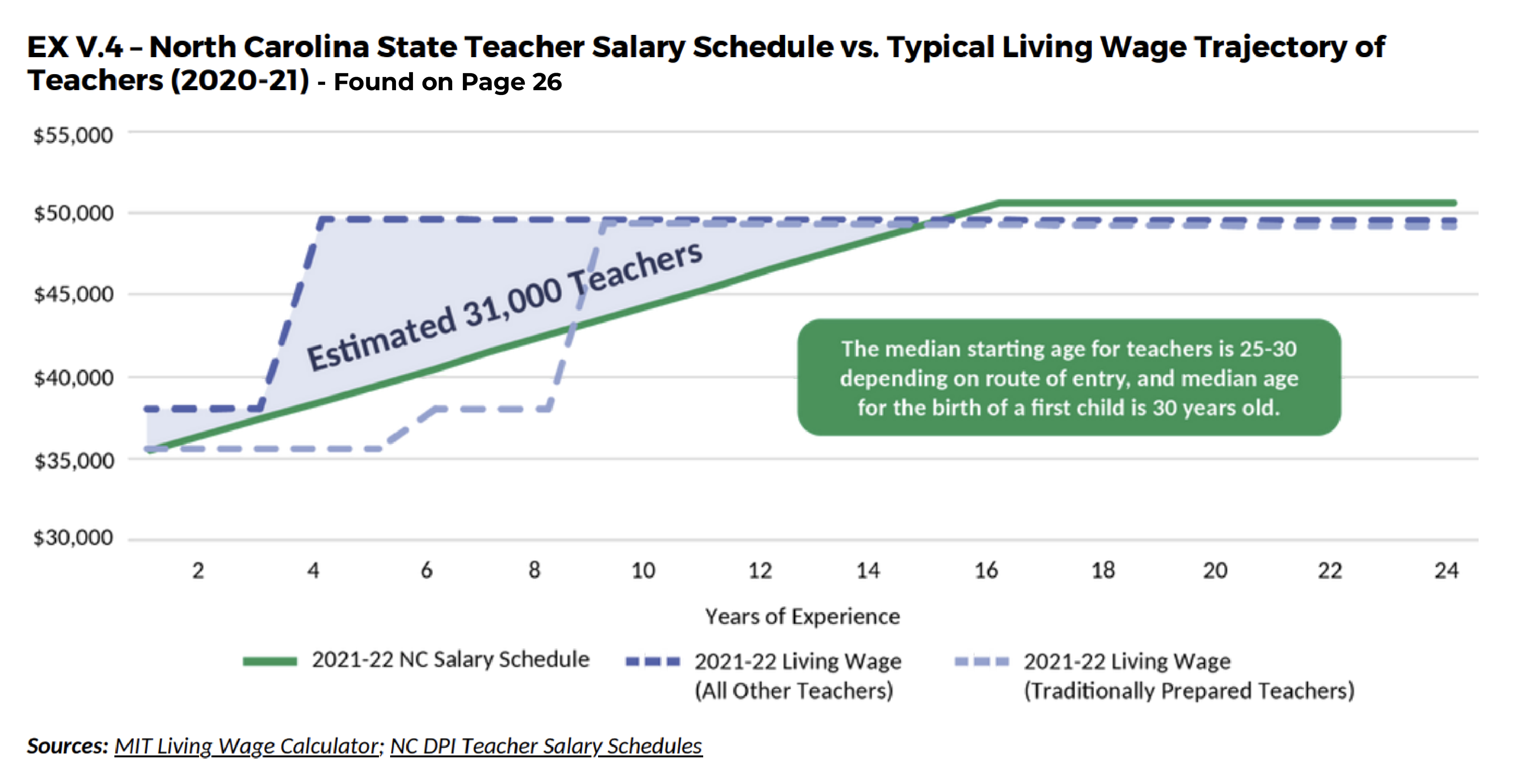 Even when compared to other public sector employees in our state, teachers earn less and take much longer to reach the top of the base salary schedule.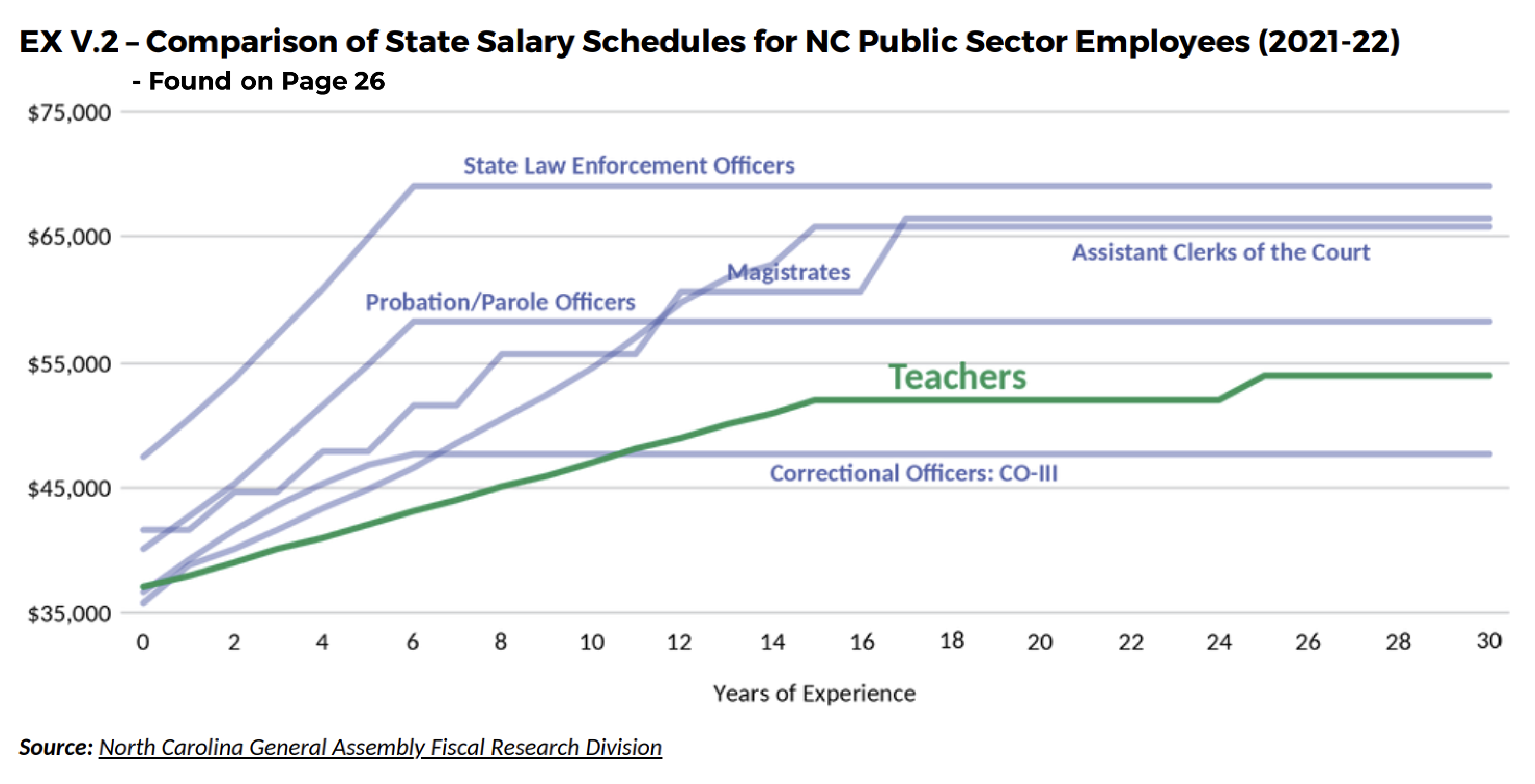 Challenge 3: T

he Traditional Teacher Compensation Model Does Not Provide Meaningful Professional Promotions that Attract Top Talent and Keep Effective Educators in the Classroom

.

 
Research has
demonstrated
that the traditional step-and-lane salary schedule limits overall earning potential and discourages high-aptitude individuals from pursuing a teaching career. Reinforcing this notion, a report issued by McKinsey in 2010
revealed
that 87% of top-tier candidates indicate that their preferred occupation provides opportunities to advance, compared to just 45% who believe teaching will provide similar advancement opportunities.
The same report noted that nations that perform at the top on international assessments recruit 100% of teachers from students in the top-third of their class. In the United States it is 23%, and only 14% for teachers in higher poverty schools
.
Advanced Teaching Roles

provide

one pathway for highly effective educators to advance professionally as they take on greater responsibility and leadership. Currently, approximately 1,000 North Carolina teachers are working in advanced roles, earning up to $20,000 in

additional

pay. However, with just 21% of districts currently

participating

, there is significant room for growth.
Challenge 4:

Existing Pay Structures are not Designed to Fill Hard-to-Staff Subject Area Positions and Schools, Leading to Persistent, Critical Vacancies and Disparities in Student Access to Effective Educators

.
Like most states, teacher staffing inequities in North Carolina are driven, in part, by the structure of the state teacher salary schedule, which requires that teacher base pay is the same for equivalently experienced teachers, regardless of what, where, or how well a teacher teaches.
In high-demand fields like STEM subjects, average teacher pay significantly trails average wages for recent UNC System graduates for those majors. These subject areas also see markedly higher teacher vacancy rates
.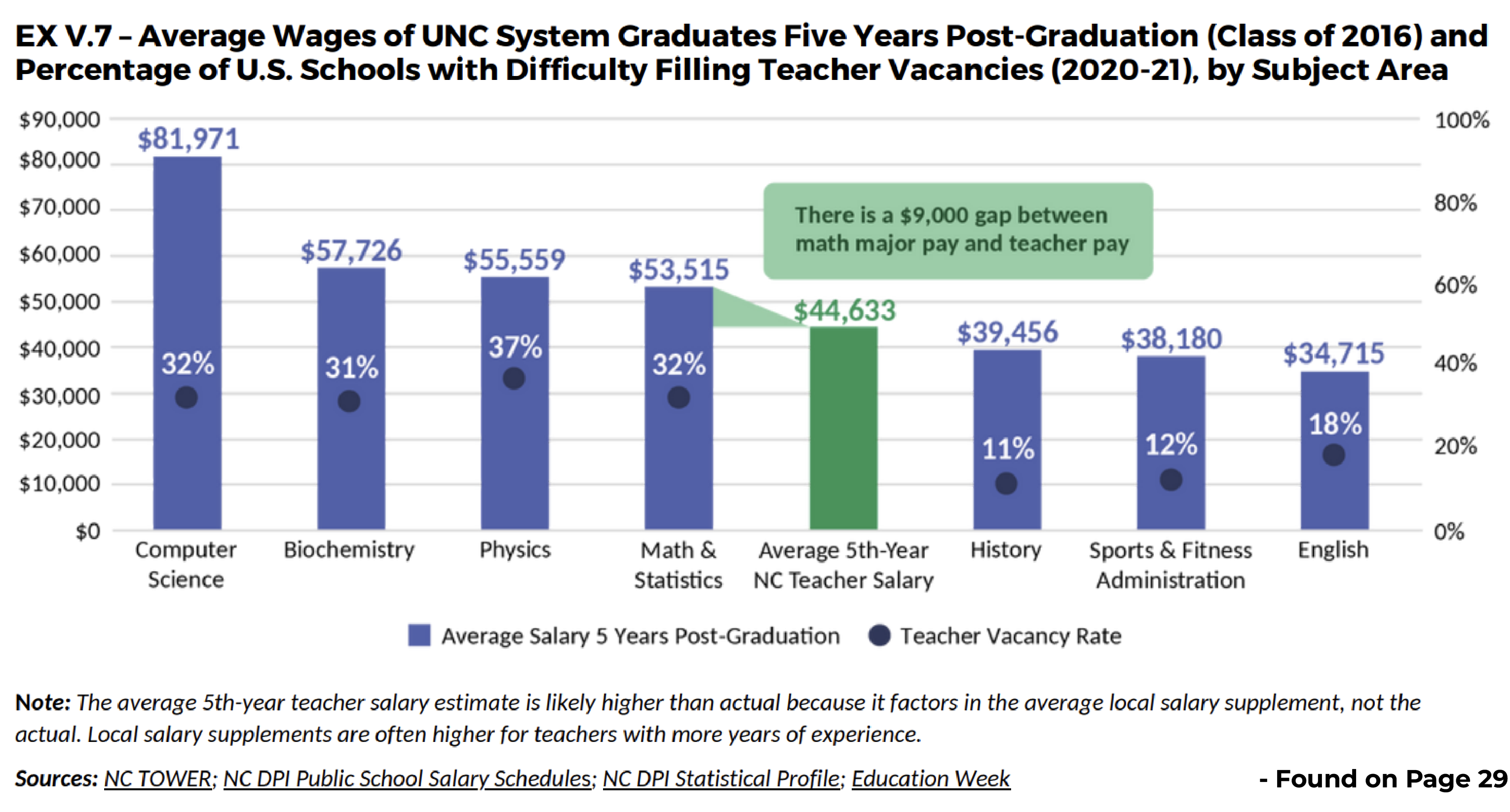 Additionally, there are tremendous disparities in student access to highly qualified teachers with students in

high poverty

schools disproportionately taught by less experienced and less qualified teachers.
Challenge 5: S

tarting Teacher Pay is not Competitive with Surrounding States,

Making

it Difficult to Attract Top Candidates and Compete for Talent in Our Region

.
Cost-of-living adjusted beginning teacher pay in North Carolina trails
all
of
our regional neighbors.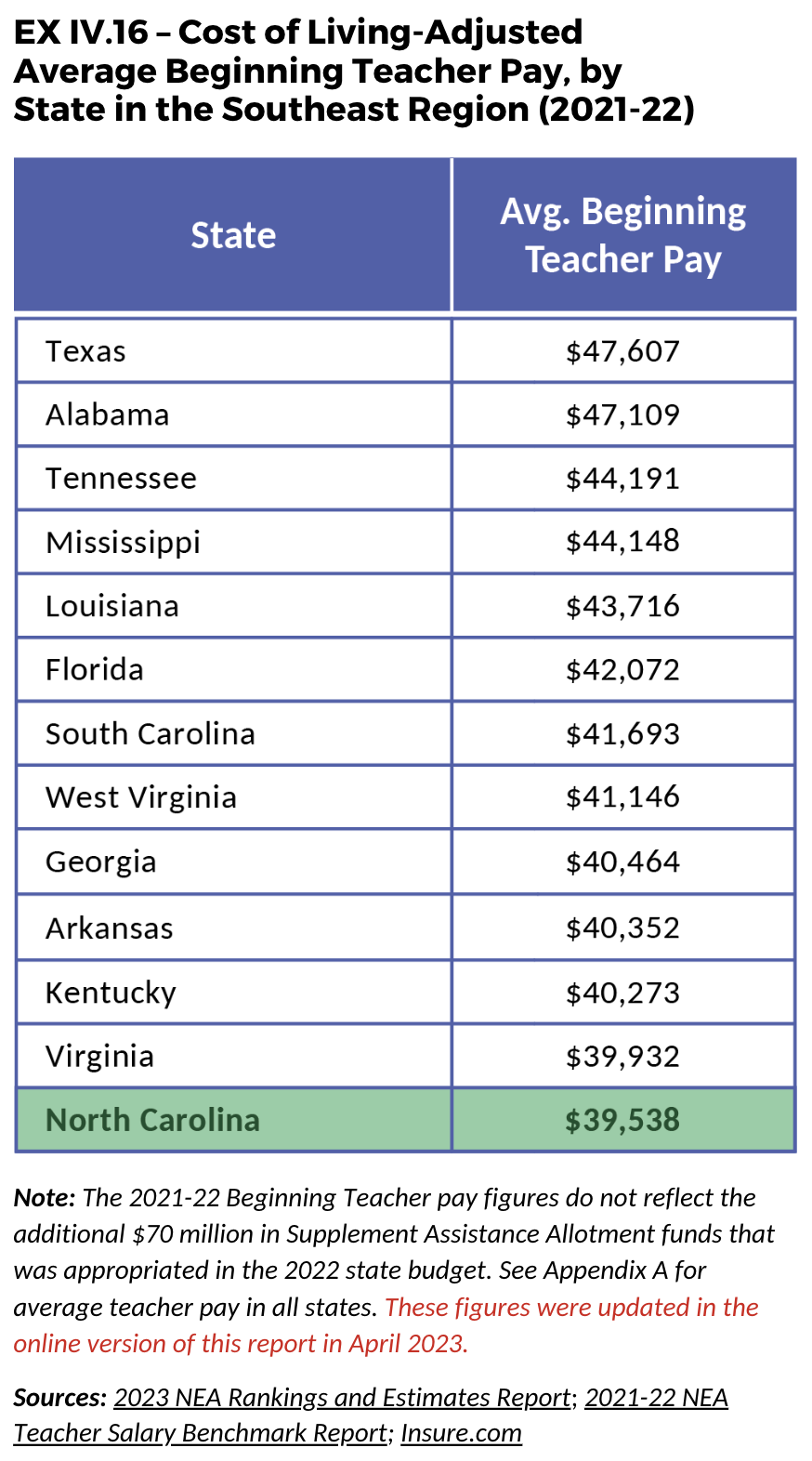 Uncompetitive starting pay may deter high-quality teacher candidates from entering and persisting in the profession in North Carolina. For example, just 53% of students admitted to North Carolina educator preparation programs in 2013 went on to teach in a North Carolina classroom

within two

years.

Teacher Pay Recommendation

s
Given these significant challenges, the
Teacher Pay in North Carolina
report recommends a substantial, multi-year investment in teacher pay, adhering to four basic tenets: Raise the Floor, Raise the Ceiling, Attract and Retain Hard-to-Staff Positions, and Reframe the Compensation Context.
The report recommendations align with the most current data and research on teaching strategies that support student growth and are informed by expert perspectives regarding best practices for the compensation of high-skilled professionals.
Raise the Floor:

 
Significantly increase starting pay, particularly for well-prepared candidates, to be competitive with surrounding states and similar industries.
Replace the outdated step-and-lane schedule with a front-loaded pay structure in which effective teachers earn full base teacher pay earlier in their career; ensuring that all licensed teachers can support a family and have access to additional career and compensation advancement opportunities.
Raise the Ceiling:

 
Implement Advanced Teaching Roles statewide to provide well-paid professional advancement opportunities to effective teachers who want to extend their reach while transforming the organizational structures of schools.
Develop a meaningful teacher retention strategy to enhance the front-loaded base pay structure and to recognize the long-term service of effective educators.
Attract & Retain Hard-to-Staff Positions:

 
Increase or broaden incentives for teaching in hard-to-staff schools.
Establish competitive, differentiated pay for high-demand degrees like STEM and Special Education.
Reframe the Compensation Context:

 
Align compensation with an effectiveness-based licensure plan that elevates the status of the profession and attracts high-quality talent.
Examine the opportunity to offer teachers defined contribution retirement plans, including options that provide higher take-home pay in exchange for lesser retirement contributions.
Convert state-funded position allotments into a hybrid-teacher allotment method that is based on positions (calculated by ADM) but allotted in dollars to increase equity of these allotments across schools and districts, empowering districts to optimize their teaching funds.
Ensure any teacher compensation strategy is aligned with other efforts to improve the working conditions of teachers, including stronger school leadership, systems of support for students and reduced administrative burden to allow teachers to focus on teaching, school safety, and more.