Announcing TeachNC:
The One-Stop Resource for Becoming a Teacher in North Carolina
We are thrilled to share that, for the first time ever, North Carolina has a unified, statewide teacher recruitment initiative that elevates the teaching profession and seeks to fill critical vacancies!
At the August 14th meeting of the North Carolina Education Cabinet, education leaders and stakeholders gathered to celebrate the launch of 

TeachNC

. Aligning with BEST NC's longstanding commitment to improving the educator pipeline, we have collaborated with the North Carolina Department of Public Instruction and TEACH.org to create this statewide teacher recruitment initiative. TeachNC employs both a broad media campaign and a robust web platform to support teacher candidates in their quest to become a teacher in North Carolina.

Members of the NC Education Cabinet stand in support of TeachNC.
Why TeachNC?
Every student deserves a quality education — that's a given. What you might not know is that teacher quality is the #1 in-school factor for guaranteeing students' long-term success. Since educators play a crucial role in the lives of our students, TeachNC is designed to inspire teaching candidates to pursue the career and remove barriers that stand in their way.
The Audience
The TeachNC initiative seeks to provide accurate and compelling information about the teaching profession that will be useful to both potential candidates and the general public. TeachNC targets students who are just beginning to think about their career options all the way to mid-career professionals who may be considering a career change.

The Campaign
TeachNC's media campaign, "Teachers Have Better Work Stories," highlights the ways in which teaching profession is challenging, fulfilling, and constantly evolving. These career qualities are particularly appealing to Millennials and Generation Z as they seek fulfilling professions. TeachNC's first public service announcement can be viewed below.
TeachNC will also be curating Better Work Stories from real North Carolina teachers. To view the stories collected so far, click 

here

. If you are a teacher or know of one who should share their Better Work Story, please share it 

here

.
The Website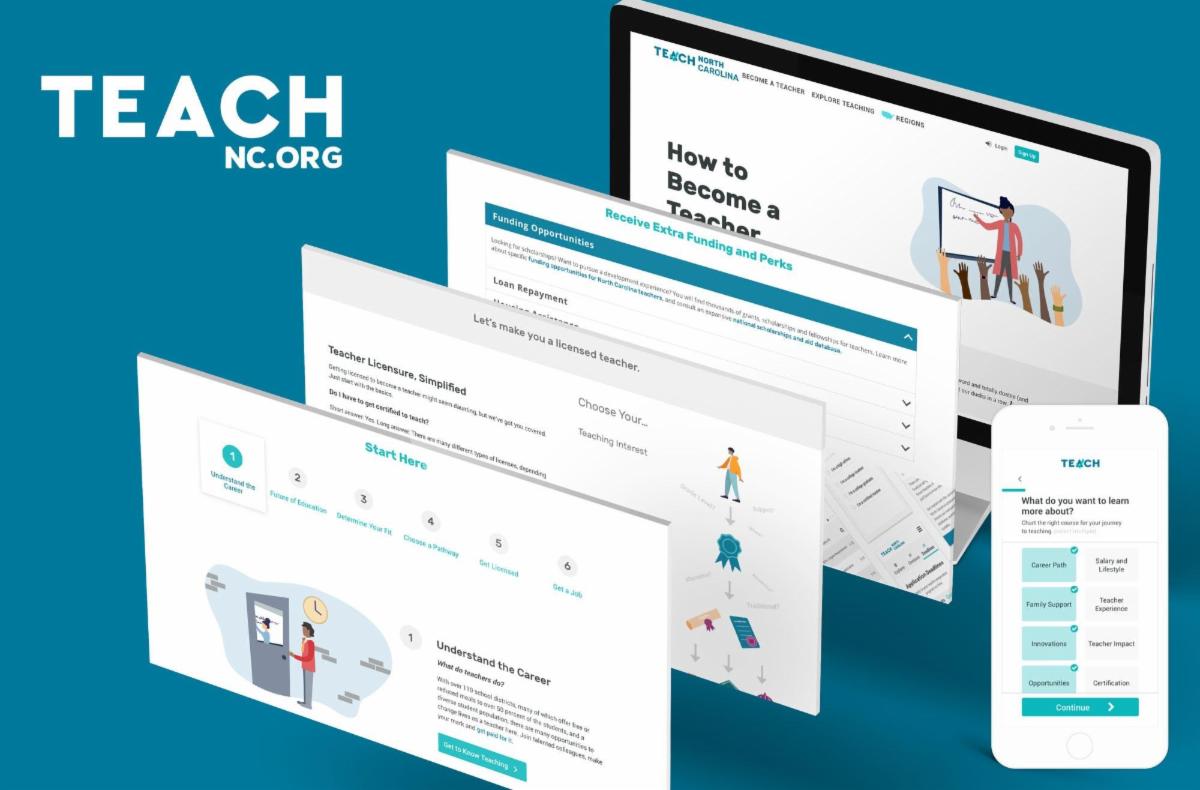 TeachNC.org

 is an interactive digital recruitment platform that centralizes all of the information and resources needed to become a teacher:
More to Come, and What YOU Can Do:
Over the next months and years, TeachNC will continue to expand its resources with district landing pages and updated information as licensure requirements change. In the meantime, here is what you can do to help:
If you know someone who is thinking about becoming a teacher, please share www.TeachNC.org and encourage them to register to get (free) resources.
If you are a teacher and want to share your Better Work Story, take just a minute to film with your phone and upload it here.
If you have any ideas or questions, reach out to the TeachNC Director, Princess Brown at Princess@TeachNC.org.
TeachNC Partners

TeachNC Funders